Co=Gen 2020
Online Leadership Development for Millennials+
Each live/online module comprises two 1 day weekend workshops 5 weeks apart, with online reinforcement and coaching in between.
It is facilitated by mature and experienced Silververve coaches and mentors. It also features the further support of an interactive peer group of participants.
Each module is an incremental step in the escalator for follow up action. An outcome-focused "How To" approach will challenge each participant to begin to implement new key personal and work goals.
The initial one-day live workshop in the Foundation module focuses on Goal-Setting plus related topics.  The second live one-day workshop focuses on Goal-Getting presentations from participants on their success to date with goals, feedback from both coaches and peers and a discussion of common issues and strategies to address them.
The commitment by participants and their sponsors is just to the first module. Employers/managers will be kept in the loop re team goals so they can offer support.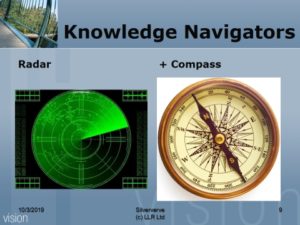 Silververve Coaches
"Escaping the gravitational pull of old habits, exploring inner space, setting and getting new goals".
Each module will pick up on one topic in each domain. Examples are:
Personal Coaching
Goal-setting/ Goal-getting

Time Management in a Digital Age

Handling Stress
Team Working and Networking
Team Working/Team Leading

Powerful Presentations

Creativity and Innovation
Organisation Coaching
Culture/Values

Navigating the Organisation

Visioning and Strategising
Approach
Whatever the goal or challenge chosen, solutions and strategies should exemplify the following ingredients:
Personal and Professional Well-Being
Positive and Creative Thinking
Focused and Effective Doing
Incremental and Reflective Learning
"Experience is a hard teacher because she gives the test first, the lesson afterward."    Vernon Law

The Spinetop Computer
Key concepts, resources and tools are woven into the strands of the Co=Gen Coaching programme.
Natural Intelligence
When life itself is changing dramatically, so must we all – and so must the learning process. The key is an engaging live + online process, developing a clear vision and a focused strategy and plan for turning ideas into action, reinforced via digital media via Skype or Zoom etc.
"…the choice between cocooning ourselves in the past and shutting out all the inconvenient noises of change, or embracing a future based on innovation, disruption and using our brains is stark."  Alex Malley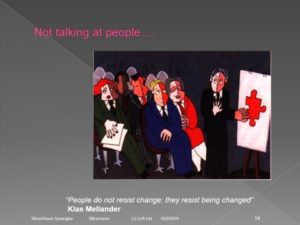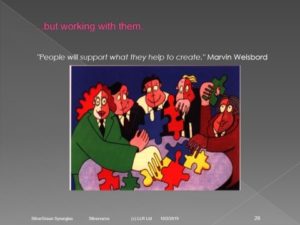 Goal-Setting and Getting
In an increasingly complex world, the power to stop our attention getting hi-jacked by digital devices is more important than ever.
While smart portable digital devices are great for handling schedules, tracking tasks and storing relevant details they need to be complemented by a unifying self-management tool which puts you in the driving seat of your life.
"Your ability to focus is the most important success skill you can ever develop"   Brian Tracy
 Goals Analogue Tool for Digital Age               
From Fuzzy to Clear Goals                     
The Focus Self-Manager®
The Focus Self-Manager® is a big picture analogue tool highly relevant in a digital age and a key resource for goal-setting and goal-getting. It is like a very portable personal white board.
When it came to remembering facts, a recent study showed that it didn't matter which method of note-taking they used, but when asked to explain the concepts covered in the lecture, the students who took notes by hand did better.
Verbatim note-taking involves a shallower form of cognitive processing than note-making. When using a pen and paper or a marker and whiteboard you process the information more deeply because you must be selective. Another advantage is that you can create Mindmaps with personal meaning, the key to goal-getting.
"People are remarkably bad at remembering long lists of goals. I learned this at a professional level when trying to get my high-performance coaching clients to stay on track; the longer their lists of to-dos and goals, the more overwhelmed and off-track they got. Clarity comes with simplicity."  Brendon Burchard
Creative Thinking
Thinking outside the square starts with lateral thinking in response to a problem, challenge or opportunity. The process then shifts from divergent to convergent thinking in developing a clear vision of an outcome. The next stage is focused strategies and clear plans for turning ideas into action Reaching a decision is not the end of the process, but simply the start of the implementation phase.

"Imagination is more important than knowledge" Einstein
"Thinking outside the square- total rethink-not just tweak… involves two basic processes: escaping from your current view of the situation, and searching for a much better view of the situation."  Michael Hewitt-Gleeson
Great Projects
A well-chosen project, well run, lifts individuals out of the mundane and allows them to focus on a worthwhile outcome with challenges and rewards. The key to a project's success is the energy spent on crystallising first the vision, then the strategy and finally the plans to bring it to fruition.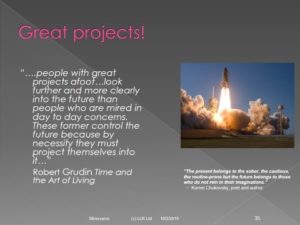 Project-based learning
"….people with great projects afoot…look further and more clearly into the future than people who are mired in day to day concerns… "  Robert Grudin
Creating Value for Organisations
There are some cogent reasons to trial Co=Gen, The ability to empower and engage with Millennial+ employees is critical to fostering a future-oriented inclusive, innovative organization culture. It is important to learn what matters to Millennials – what motivates them; and understand how to effectively engage with them to increase retention and productivity.
Millennials are particularly interested in personal and leadership development. A LinkedIn study revealed that 94% of employees would stay at a company longer if it invested in their career development.
Organizations that understand the importance of developing leadership skills are more likely to promote and train from within where they can. Such organisations encourage a culture of development and learning, rather than looking externally to fill skills gaps.
"… [organisations ] create value not from physical resources but from the intelligence and competence of people… the intangible assets and the things people know and do."   Dr. Karl-Erik Sveiby[1]  [1]https://www.sveiby.com/
Springboard for Action
Employers need to support the upcoming generation to meet the challenges they face. Co=Gen is a springboard for follow up action, challenging participants to set and get key personal and work goals demonstrating insight, creativity and critical analysis.
Staff attrition prevention makes sense because it is difficult to hire people who fit the organization's culture and needs in the first place. Much can be accomplished by a quite  modest investment in personalised training and development.
An organization's success comes from creating a learning culture with people who love to be challenged, who want to grow and know how to collaborate.  Trust is vital to promote agility, innovation and risk taking.
Engagement Indicators include
more staff engagement
better retention – lower staff turnover
higher productivity
increased motivation
more job satisfaction
greater tangible and intangible value
"They are totally immersed in the digital economy, open to doing new things and incredibly resilient when it comes to facing some of the world's biggest challenges – and wanting to make positive changes that will improve the lives of people around the world."   Felicity Brown, head of MYOB's Employee Services
Creating Value for Participants
Time alone can be a slow teacher.  Like sports people, those who really want to succeed need to tap the invaluable knowledge, experience, insights and contacts of coaches rather than take extra years to d it all themselves.
The Co=Gen Coaching Programme is a social enterprise project, based on strong values, run by experienced and credible people. Coaching and mentoring support will be reinforced by a strong peer-to-peer network.
Millennials+ have grown up with digital media. While highly connected online they often lack close live local support networks. Outside the workplace that they don't have some of the personal and leadership development opportunities via service clubs and churches that helped nurture, develop and support today's older people.
In a world awash with digital data, coaches and mentors are more important than ever as knowledge navigators. Coaching and mentoring from mature, experienced and neutral coaches, is a huge asset in terms of personal and leadership development for Millennials+ while helping them achieve a better life balance.
"Time is a great teacher, but in the end, it kills all its pupils".  Louis Hector Berlioz
Self-Management Skills
The Co=Gen Coaching programme is a great opportunity for both the personal and career development of young potential leaders working in the public or private sectors.
But as a starting point, they must learn to manage themselves better. Goal-setting and getting are closely allied with time management in a digital age and effective team working.  The critical attribute of efficacious human beings is not only having the right information, but also knowing how to act on it.

"Are we preparing students for a life of tests, or for the tests of life?"
The Bottom Line
As Prof. Bentley points out, people of all ages will need to become enterprising ongoing portfolio work creators and builders, not only job seekers. Their CV will need to become a digital repository for examples of what they have achieved – not a grab bag of qualifications beyond their use by date.
Co=Gen can make a material difference to the personal and work lives of participants by sharing valuable knowledge and experience, equipping them to better handle present challenges and open their eyes to new opportunities in the unfolding future.
"The workforce of the near future will be more flexible, collaborative and less secure, populated increasingly by older people and led by a generation with different values to their predecessors."  Prof. Tim Bentley, Director, AUT Future of Work Programme
Unlocking the potential of Millennials+ now will help create the future of your organization.
Learning has become the key development asset. Intangible assets include what an organization's people know and do and its reputation and trust levels. These are what give rise to tangible assets.
For this reason, organizations must continually invest in staff training and development, especially for this age group, even if you think they might leave. A development vote of confidence in them could well keep waverers productively engaged.
As Richard Branson says, only one thing is worse than losing someone after investing in their development.  That is not investing in them and have them stay!