Co=Gen Coaching
Personal and Leadership Development for Millennials+
"Escaping the gravitational pull of old habits, exploring inner space, setting and getting new goals".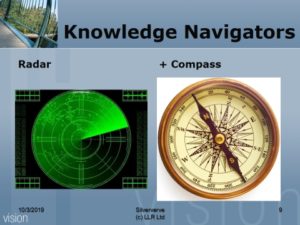 Each self-contained Co=Gen module comprises 5 X once a week 90 minute Zoom Meetings with stimulating presentations and breakout conversations.  This is reinforced between sessions by digital resources and followed up by opportunities for small group online coaching and feedback.
Modules are facilitated by experienced Silververve knowledge navigators Lyall Lukey and Malcolm Bell.  Follow up coaching and feedback is provided by qualified members of the Silververve team.
Module 1: Focus on Goals
"Do you know where you're going to?
Do you like the things that life is showing you?
Where are you going to?
Do you know?"
Theme from Mahogany Sung by Diana Ross

The Foundation Module homes in on Goal-Setting and Goal-Getting. An outcome-focused "How To" approach will help each participant to visualise and begin to implement new key personal and work goals, with feedback on initial progress provided by Co=Gen Silververve coaches and peers.
While the module is self-contained and separately bookable, it can also be a first step on the personal and leadership development escalator. Registration Options
Attention Hijacks
In an increasingly complex world, the power to stop our attention getting hijacked by digital devices is more important than ever.  While smart digital devices are great for handling schedules and tracking tasks they need to be linked to balanced personal and work goals.  Module 1 enables participants to understand and use a simple incremental process to set and get goals.
The Focus Process
"Your ability to focus is the most important success skill you can ever develop"   Brian Tracy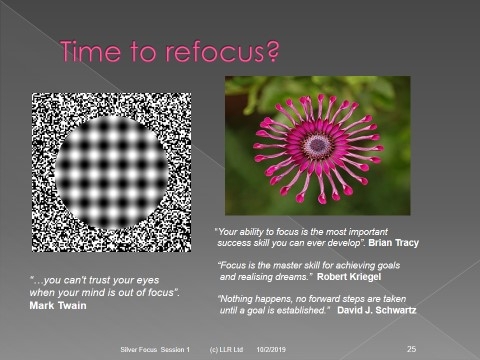 The Focus Process combines big picture digital and analogue tools for goal-setting and getting.  The longer the lists of goals and to dos, the more overwhelmed and off-track people get. Clarity comes with simplicity and focus.
Natural Intelligence
"If you don't do your own thinking Artificial Intelligence will do it for you.  But, there is no guarantee that AI will think in your own interest at all."  Michael Hewitt-Gleeson
When we set new goals we harness the power of the human mind to visualise big picture outcomes. It is important to understand the radical differences between even the crudest human mind and the most sophisticated computer.
We often get insights into the natural world by referring back to machines humans have invented. The age of AI helps us better understand NI and the power of the Spine-Top Computer. Machine learning now resembles some aspects of the neural activity of intelligence but the human brain is still impossible to match. Registration Options
The Spinetop Computer
Creative Thinking
"Thinking outside the square- total rethink-not just tweak… involves two basic processes: escaping from your current view of the situation, and searching for a much better view of the situation."  Michael Hewitt-Gleeson



Thinking outside the square is using lateral thinking to set goals in response to a problem, challenge or opportunity.  The key is to develop a clear vision of an outcome before focusing on crystallising goals and developing strategies and plans for turning ideas into action. Registration Options
"Imagination is more important than knowledge" Einstein
Great Projects
"..people with great projects afoot…look further and more clearly into the future than people who are mired in day to day concerns.."  Robert Grudin
A well-chosen project lifts people out of the mundane and allows them to focus on a worthwhile outcome with challenges and rewards. The key to a project's success is the energy spent on crystallising first the vision, then the goals, strategies and  plans to bring them to fruition.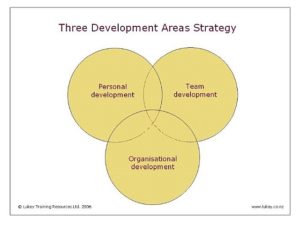 Key concepts, resources and tools are woven into the strands of the Co=Gen Coaching programme.
Each module is self-contained and separately bookable and will emphasise one topic from one of the following development domains; Personal, Team and Organisation.
Personal 
Goal-setting/ Goal-getting

Time Management 

Well Being
Team 
Team Working/Team Leading

Powerful Presentations

Creativity and Innovation
Organization 
Culture/Values

Navigating the Organization

Visioning and Strategising
Approach
Modules exemplify the following:
Personal and Work  Well-Being
Positive and Creative Thinking
Focused and Effective Doing
Incremental and Reflective Learning